Additional services
Here you'll find a list of additional services, which all our guests at Pension Dr. Geissler are able to use.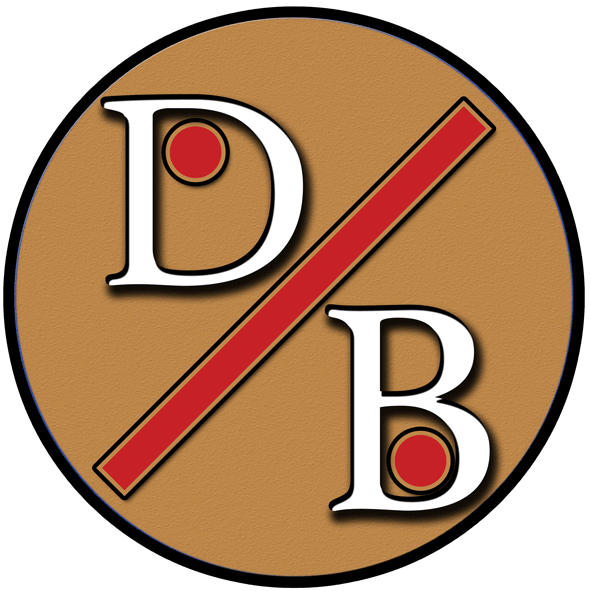 WATCH OUT! DIREKCT BOOKING DISCOUNT!
For all guests who book directly with us (via homepage, mail, telephone or on site) we grant you as a thank-you 10% discount per night on all your additonal services (e.g. garage, beverages, guest bus).

Maximum 70% discount is possible.

Example: Booking via our homepage for 7 nights - at the end of your stay 70% from your extra bill will be deducted:
2x pick-up from the airport
2x Prater-City-Tour
2x mineral water
2x espresso
1 bottle of wine
for only 25,74! instead of 85,80 Euro
Be smart and book directly here with us!
Our direct booking discount is applicable for all here listed extras:
Drinks
During the reception times (06:30 am – 10:00 pm) you are able to order cold and hot drinks.
Car park in Georg-Coch-Garage
The car park is just 4 minutes away from the bed and breakfast. Get your parking ticket at a lower price at our reception, before entering the car park. This cheaper ticket is only available at Pension Dr. Geissler. If you need any help, just ask our receptionists. Maybe our shuttle bus is close and able to help you.
Charge: 20,- Euro for 24 hours

Airport Transfer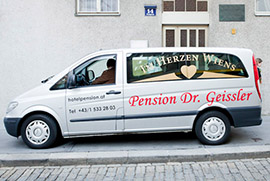 If you need an airport transfer, we will be pleased to organize it for you. Our own shuttle bus is a modern, air-conditioned bus for 8 people. Please leave us with your reservation, your arrival time and the number of your flight, to make sure we are able to pick you up in time. Of course we also take you back to the airport at the end of your stay too.
Charge: 16,- Euro per person and ride (minimum 2 persons)
Prater-City-Tour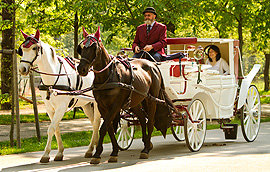 Have an exclusive look behind the scenes and take a tour with the famous Wiener-Fiaker, a horse drawn cab and explore the city. As a guest of ours we are able to offer you a special price!
This tour is unique in Vienna and only offered to our guests. You are able to follow the horses and the coachman for one hour from the stable to the beginning of their workday at Stephansplatz. At 8:30 am you will be picked up by our driver from the bed and breakfast, taken through the city center and along the Donau, where you can see the highest buildings in Vienna. You will arrive at the stable at about 9:00 am. Now you have the unique chance to see the modern stables and how the horses are put on to the cab. After a short sightseeing in the stables, you will board the Fiaker and enjoy the most beautiful way to work – the coachmen's one. You will drive through the Prater – the former imperial hunting ground – via the Ringsstraße to the city centre. The tour ends about 10:10 am at the Stephansplatz.
The Prater-City-tour is bookable during the whole year. In wintertime you will have blankets and closed cabs to prevent you from freezing. This unique tour is exclusively bookable for guests of Pension Neuer Markt and Pension Dr. Geissler.
Duration: 20-30 minutes on the shuttle bus and about 1 hour with the Fiaker
Charge: 22,- Euro per person (in case of single use + 10,- Euro)
Booking via e-mail or at the reception.
The Wiener Ringstraße and the area around
In the middle of the 19th century the Wiener Ringstraße was built in place of the old city wall. Alongside the 6 km long boulevard, more than 25 historical buildings of different styles have been built. This tour starts with our guest bus straight in front of our door or with the sightseeing tram at the Schwedenplatz.
Duration: ~ 30 minutes
Charge: 11,- Euro per person (minimum 2 persons)
Registration at reception
Vienna Card
The official Vienna Card offers you more than 210 discounts at museums and sights, theatres and concerts, in shops, cafés, restaurants and the 'Heurigen' wine tavern, as well as free travel by underground, bus and tram for 72 hours. The Vienna Card is available at our reception.
Charge: 29,- Euro